This is the last v4 minor version release. The next version is going to be the major v5 update.
The development of the v4.14.5 has taken more than we have expected due to several new features included in this release.
HTML code editor
We've added HTML code editor to both email campaigns and autoresponders. You can use HTML code editor to write your HTML email code or copy&paste from a third party source such as stripo.email or unlayer.com.
Live HTML email preview for the HTML code editor
You can live preview your HTML email when using the HTML code editor.
Suppression link personalization tag
In addition to using the default opt-out link, you can also add "add to suppression" link into your email campaigns.
Email open and link click condition check in Journeys
You can run checks based on email open or link click activities in multiple campaigns and autoresponders when setting up a Journey.
Google Postmaster link for delivery server sender domains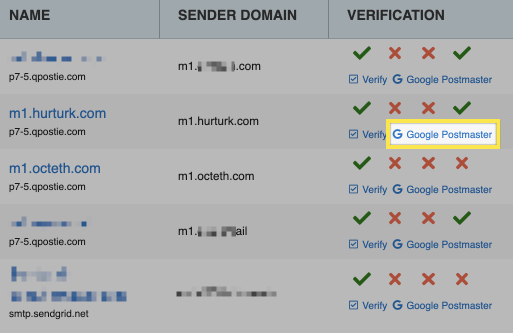 To save your time, we have added Google Postmaster link next to each delivery server. With a single click, you can open your Google Postmaster dashboard for that specific sender domain.
Delivery server and DNS setup assistant CLI tool
When setting up a new sender domain, a series of processes must be done, such as DNS setup for SPF/DKIM/DMARC/MX, PowerMTA or third party MTA setup, etc. We have added an easy-to-use CLI tool for showing you the steps that need to be followed.
Ability to clone an autoresponder
Starting from v4.14.5 update, you can clone an existing autoresponder with a single click. This saves your time when setting up several autoresponders.
2FA security check for the user area
Users can setup and activate two-factor-authentication for their user accounts. This increases the security for the user area and prevents unauthorized access.
Ability to clone a segment
With a single click, you can clone a segment and create a new one.
Built-in MySQL Docker container
Oempro v4.14.5 comes with a new Docker container which is only for running MySQL server. You don't need to install a MySQL server to your server from now on. Oempro will include the setup and optimized MySQL server itself. This is the ideal solution for low-volume users.
Dynamic x-complaints-to email header
Oempro v4.14.5 aligns the x-complaints-to email header with the sender domain to increase the reputation.
License error page replacement for tracking domains
Link tracking domains do not display license warning page when accessed directly. These links display a generic email marketing service page.
Open tracking agent image improvements
We've made improvements in the email open tracking agent.
Remote content personalization tag support for the subject line
Subject lines can also be fetched remotely from now on.
Data export center for supporting high-volume data exports
When exporting high-volume data such as 500,000 subscribers or more, it was causing time-outs on the web browser. We've built the "Data Export" section. No matter how many millions of subscribers you export, the process will be done in the backend. You can close your web browser. When the exported data is ready, it can be downloaded from the user area.
Email template assignment improvements
Email templates can be assigned to user groups and specific user accounts. These users can be given permission to edit email templates.
Ability to set up multiple user accounts with the same email address
If this feature is enabled, you can set up multiple user accounts with the same email address.
Improved administrator bar for the user area
When the admin impersonates the user area, the top administrator bar has an improved user list with search functionality.
API improvements
We've made various performance and stability improvements to API end-points.
Segment rule update and caching improvements
When a segment is updated, the cache gets reset to reflect the updated count.
The email campaign queue engine improvements
We've made several performance improvements to the email campaign queuing algorithms for higher performance.
Local relaying domain settings
Starting from v4.14.5 release, local relaying domains can be set in the admin area > settings > email delivery section. No more .env file editing.
Docker container improvements
Oempro's Docker containers have been updated.
Various bug fixes and performance improvements
We've made a various amount of bug fixes, performance improvements, and security updates.
For any questions or comments, please don't hesitate to contact us via hello@octeth.com