After logging into the administrator area, go to Settings > Delivery Servers and click Create delivery server link.
Enter the following information:
Under Email Delivery tab;
Name: Mailhog (For Testing)
Host Address/IP: 192.168.99.102
SMTP Port: 1025
Security: No secured connection
Connection Time-Out: 10
Authentication: Authentication not required
Under Domains tab;
Click Update button. Then click DNS Test tab, scroll down and click Test Delivery Server button. You should see PASSED next to the Email Delivery test: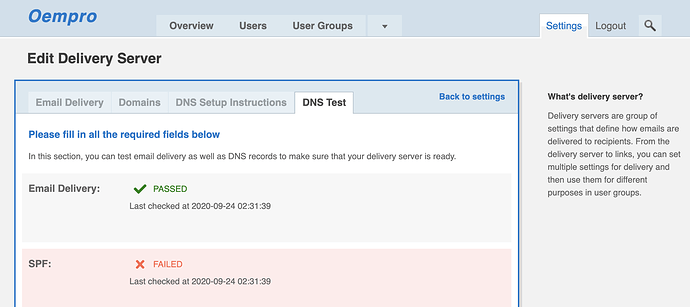 You can ignore other warnings.
To view your messages sent to Mailhog for testing purpose, open a new web browser window, and visit http://youroemprodomain.com:8025/